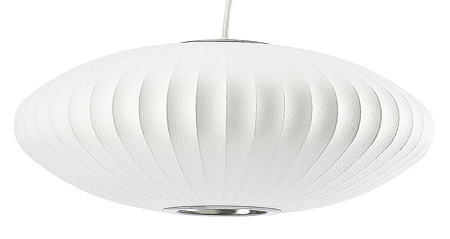 Nelson® Bubble Saucer® Pendant Lamp
George Nelson for Herman Miller® - 1952
An assortment of lights in various spherical silhouettes, the Nelson Bubble Lamps add a touch of softness and luminosity to interiors. Designed by George Nelson in 1952, these elegant fixtures are fashioned from a sturdy, lightweight steel frame yet have a delicate, floating quality.
Herman Miller Living Room Sale   15% off until February 1st
Small $494 $419.90
Medium $619 $526.15
Large $869 $738.65
X-Large $1619 $1376.15
Materials:
Plastic polymer over steel wire frame. Each lamp comes with a 5.25" brushed, nickel plated steel ceiling plate and 6 feet of cord. Bulb not included. 60 w for the small saucer and 150W for the other sizes.
Dimensions:
Small: 17.5" Dia x 7" H; Med: 25" Dia x 10" H; Large: 35" Dia x 14" H; X-Large: 50" Dia x 22" H